Welcome to the 37th edition of our weekly newsletter for the Mill Hill Community. Published every Sunday, we bring all the latest news stories, events and other information for people living in and around Mill Hill. Do you want to see A Better Mill Hill? Do you want to contribute to making our area nicer, cleaner, greener, more friendly, with a better sense of local community? The Focus team of Donna Pickup, Richard Logue and Roger Tichborne are all local residents, involved with the community and local schools. If you want to stay in touch with us and know what we are doing, we normally publish the newsletter every Sunday, however we're having a Summer break, so this is the last one until September. We hope you enjoy it!
Pentavia Update
Pentavia Retail Park
Wednesday night sees the Barnet Council
Planning Committee
meeting to discuss the proposed application to redevelop the Pentavia Retail park site with huge blocks of flats (details here -
Pentavia Retail Park, NW7 2ET - 17/8102/FUL
_). The team at A Better Mill Hill believe that this plan will undisputably make A Worse Mill Hill and so we have been actively campaigning against the scheme. The developers seem to have no interest at all in engaging with local residents, addressing their concerns or doing anything to demonstrate that they want to be good neighbours.
The council papers sum up in the conclusions why the scheme is wholly inappropriate
"It is clear that the development as proposed is of a height and scale which is wholly at odds with the established character of the surrounding areas and would represent an excessive and incongruous form of development. Officers consider that the level of harm that would arise from this excessive scale and incongruity would be significant enough as to outweigh the benefits of the scheme and to justify refusal of the application."
Flower Lane view of development
A large number of residents asked to address the committee, as the constitution only allows for two residents, Roger Tichborne from the team and John Gillett from the Mill Hill Neighbourhood forum will be addressing the committee. John will be presenting the objections from the Neighbourhood forum perspective and Roger will be summarising comments and objections from neighbours.
A strong turnout of Mill Hill residents at the committee meeting at 7pm will send a strong message to the Council and the developers. Please make sure you attend.
Dangerous Anti Social behaviour by Mill Hill County High School leavers
We are sorry to report some very anti social and potentially dangerours behaviour by pupils from Mill Hill County High School. Mill Hill has become to high jinx by pupils leaving the school, but this year there was some highly irresponsible behaviour, starting fires in the bone dry Arrendene open space with discarded text books and course work.
— MarkyWar (@Marky_War) July 22, 2018
Given some of the fires we've seen in East London recently, this could have had tragic consequences. It is not only anti social, it is potentially very dangerous. We ask all parents, teachers and the schools administration to take this issue seriously. Mill Hill has some amazing beauty spots, we want to preserve them. As well as Arrendene, Mill Hill Park was strewn with litter. We are lucky to have a dedicated team of litter pickers who cleared up the mess, but these young people are 16 year olds, above the age of consent. They really should learn to behave like good citizens.
Mill Hill's Open Waters at risk.
Darlands Lake as it was
Darlands Lake.
This is a large lake between Mill Hill and Totteridge. It is beautiful. It used to have a boating hut and pier, but this is long gone. Sadly few in Mill Hill even know of its existence. It is well worth a trip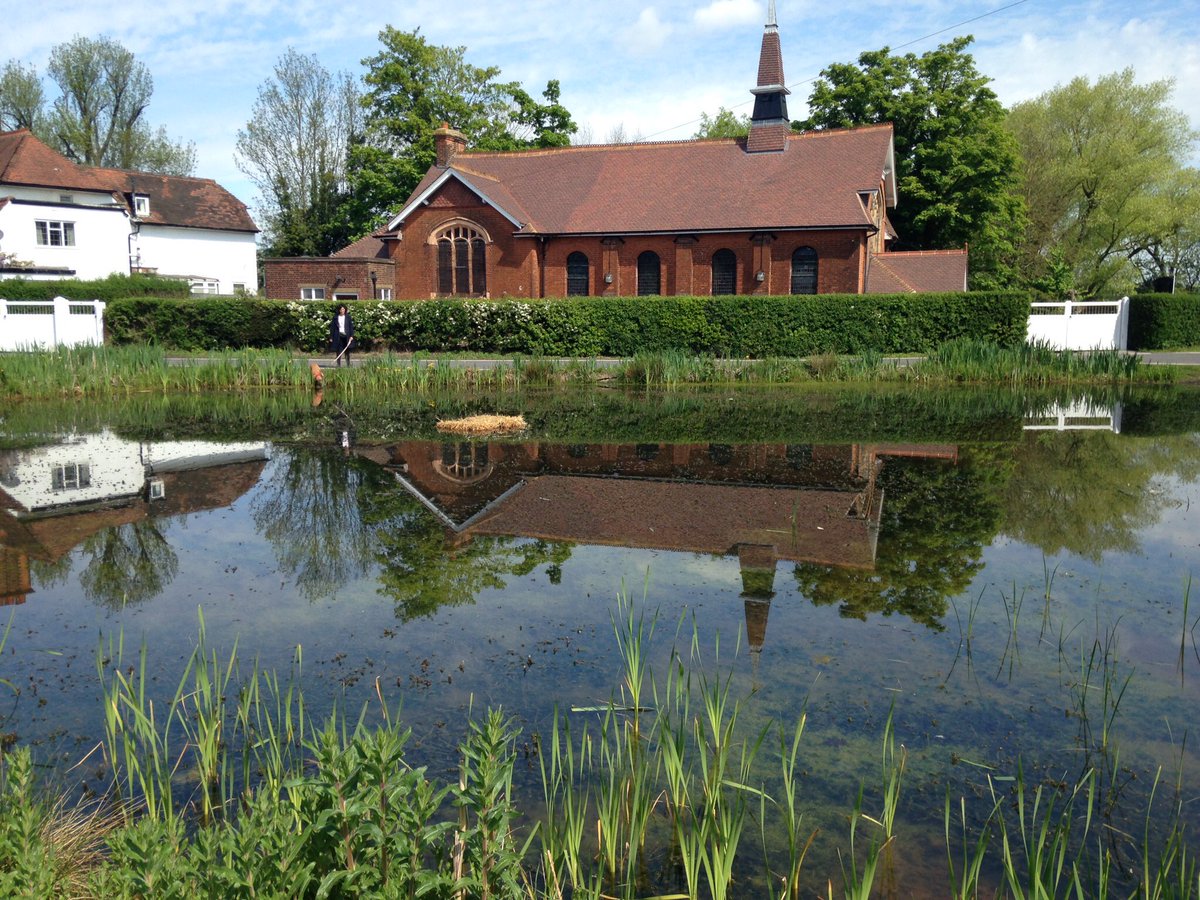 Angel Pond in 2016
Angel Pond.
This is the most picturesque pond in Barnet, it is located at the top of Milespit Hill, with an old brick church as its backdrop. As a child, I'd walk past it on the way to and from St Vincents school. I was always fascinated by the tadpoles, sticklebacks and goldfish that lived there.
.
Sadly if you took either of these pictures today, you'd be greeted with a totally different sight.
The team at "A Better Mill Hill" tweeted this picture earlier this week.
As you can see, Darlands lake is silted up and dried out. This lake is used as a summer watering hole for all manner of local animals. It used to have a population of carp of reasonable size. Last year I wrote a couple of blogs detailing
a scheme to set up a trust to manage Darlands Lake
.
Darlands Trust details
The papers around this admitted that the site had been left to go to rack and ruin over 20 years. The justification seemed to be that no one else could do a worse job than Barnet Council in protecting the nature reserve. It seems that since then, nothing has happened with the proposal to sort the situation out. Even more alarming, the lake has dried out so presumably the fish have died. I walk around the site most days, I can only believe that our councillors do not visit this part of Mill Hill to allow this situation to reach such a point. The bottom line is that a site of significant importance for biodiversity in the Borough has deteriorated to the point where it is simply a large, smelly mudpit.
Then there is Angel Pond. Any book, postcard or other image of Mill Hill would have a picture of Angel Pond, usually with the picturesque reflection of the former Methodist chapel (now the Brotherhood of the Cross and the Star)
This is how it looks today, as pictured by the team at A Better Mill Hill.
This is a slightly different issue to Darlands. The pond has been overrrun by an invasive weed. A guest blog on The Barnet Eye by
Aquatic expert Laurance Bard detailed the issues in October 2016
. What is 100% clear is that we need urgent action to sort the issue out. We need the pond restoring to its former glory. Mr Bard suggested that an aquatic expert should build a plan to save the pond. It appears that his call was ignored. The time has come to sort this out. Barnet Council should get involved as the smell is becoming an issue for residents.
What is clear is that Barnet has no strategy for managing important wetland habitats in Mill Hill. We urge our local councillors to ensure that urgent action is taken to restore these beautiful sites to their proper glory. There has been some comment on social media that this is just "due to hot weather". This is not the case. Darlands has been allowed to silt up, this problem has been recognised for over a decade but no action has been taken. Angel pond has dried out because of an invasive plant overrunning it. Both of these situations could be avoided with proper management.
Other News
The Mill Hill Lib Dems were out in force in the Broadway campaigning to "Bin Brexit" this week, canvassing local views with their "Brexitomiter"
— A Better Mill Hill (@ABetterMillHill) July 21, 2018
The Barnet Eye published a list of five local reasons why the Mill Hill Property market has stalled
— Roger Tichborne/RogT #CTID (@Barneteye) July 21, 2018
— Mill Hill Broadway (@MillHillBwy) July 19, 2018
.
And if you like amazing Jazz in a brilliant setting, checkout the Mill Hill Jazz Club. There is loads of parking, drinks are very reasonably priced and the music is top notch
3rd October - KiX Jazz Orchestra - The biggest, brashest and absolutely knockout big band.22 of the best Jazzers money can buy under the leadership & direction of multi-instrumentalist Graham Pike. Also features the wonderful singer Kate Daniels. Please RT. pic.twitter.com/qptORXE9iZ

— Mill Hill Jazz Club (@millhilljazz) September 29, 2018
.